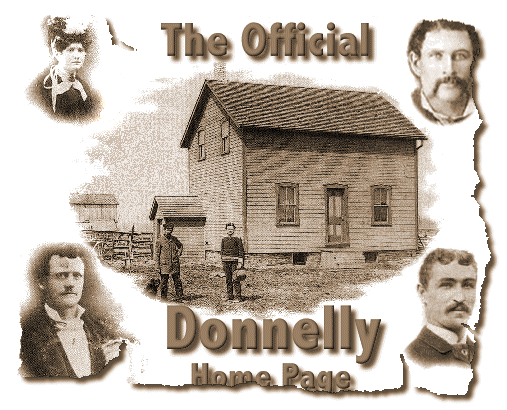 ~ www.donnellys.com ~
The Official Donnelly Home Page
Discover Canada's notorious family, the Black Donnellys, who were
massacred February 4th, 1880 by a vigilante committee. This award-
winning, popular web site has been online since May 1997 attracting
over 850,000 visitors to date. It offers everything you need to know
about the Donnellys -- historical, genealogical and tourism
information, old and new photographs, updated information on
Donnelly books and authors, a Donnelly ghost page, and much more!



You are about to embark on a fascinating trip that will take you into the world of the Donnellys who lived on the Roman Line in Biddulph Township, Ontario, Canada, in the 19th Century. Their story is filled with intrigue, adventure, romance, sorrow, and horror. It's a thrilling story that continues to enchant people of all ages the world over.


Step inside and find out what life was like for the famous Donnellys. Lose yourself for an hour or more as you read about their lives, look at old and new photographs, and browse the Donnelly bookshelf. Take a goulish trip to the haunted Donnelly Homestead, read eye-witness accounts of the massacre, and relive the night of horror as seen through the eyes of a child. This, and more awaits all who enter. So, sit back and discover a fascinating, though tragic, part of Canadian history. It'll be a journey to the past that you will long remember.




Enjoy your visit!



---
Certain written material and photographs on this site may be deemed as graphic by some viewers, and may disturb or offend sensitive viewers.
The Official Donnelly Home Page does not intend to glorify the crime or criminals involved in the Donnelly massacre, but rather,
seeks to inform and educate the public on the history of the Biddulph Tragedy.

Copyright ©1997 - 2014 donnellys.com All Rights Reserved
Web site & Graphics designed by Webmaster. Donnelly photos in title collage used with permission from
Donna Jones and Robert Salts. Title graphic designed by Webmaster. No part of this web site may be reproduced in
any form without written permission from donnellys.com. Web Site created May.1997